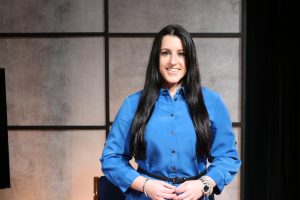 Alison St.Clair currently lives in the Washington, DC area: a city where sports championships were banned for years.
A graduate of Coastal Carolina University in Conway, SC, Alison earned a BS in Marketing and a BA in Communication. The original plan was to pursue a career in news broadcast. After completing an internship with WDBJ7 Your Hometown Station in Roanoke, VA the former sports director, Mike Stevens, encouraged Alison to focus on a career in sports. At that time, there were few females in the business but that was the day Alison changed her career direction from being the next Katie Couric to the next Linda Cohn.
Alison also interned in the media department while attending Coastal Carolina University. The experience at COASTAL TODAY (now called COASTAL NOW) is where Alison found a passion for the production side of broadcast. Linda Kuykendall, a former Communication professor and mentor, gave Alison the confidence that she was a writer and pushed Alison to write and produce her own segments with COASTAL TODAY, the University Magazine, The Sun News, and the Wall School of Business.
Eventually the passion for writing turned into creating her-own sports blog. In February 2010, Alison started www.DaNuhNuh.blogspot.com. With the average blog only lasting 100 days, Alison has continued to write for the past 11+ years. Launching her own website, ALISONSTCLAIR.COM which lead to Alison creating her own company. In 2011 Alison was asked to blog for the Double A Radio Show and for Tony Basilio; the Dean of Knoxville sports radio. Alison continues to blog for Tony where Alison's page is one of the most viewed contributors blog on Tony's site.
Currently, Alison works with NFL Pro Bowler and current Cornerback for the Washington Redskins, Josh Norman. As Norman's Executive Assistant, Alison manages all aspects of his life off the field through her company; Alison St.Clair Inc. She works first hand with the Washington Redskins player development staff, Grutman Sports & Entertainment, and all other facets that make Norman one of the most popular athletes in sports today.
Alison grew up being a University of Tennessee fan. She dreamed of playing basketball for Pat Summitt, but she stopped growing in the 6th grade. Her twin brother, Byron, is a foot taller than her and also a season ticket holder for UT. She is still waiting for her growth spurt and still rooting for the Vols even though they break her heart year after year.
Besides UT sports, Alison is an avid fan of the Texas Rangers (AL) her families Los Angeles Dodgers (NL), the Washington Redskins, all sports CCU, Dustin Johnson, and Stephen Curry. Coach Bob Knight is her hero. Charles Barkley and Nolan Ryan were her first sports loves. If she owned a racehorse, Alison would name it RunningInHeels.