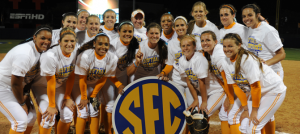 Recently I had a great conversation with one of the best broadcasters in college sports, Mike Patrick, about one of the best games that sports fans are not watching; College Softball! Dismiss any stereotypes that come to mind when you hear the word "softball'. This is a fun, fun game to watch and these women are beautiful athletes who can play ball!
There are 64 teams in the NCAA softball tournament bracket. The Southeastern Conference sent 11 teams. Six SEC teams have advanced to the NCAA Super Regional (sweet 16). The defending National Champions, the Alabama Crimson Tide is the only SEC team to win the Women's College World Series. The PAC-12 owned the WCWS from 2006-2011. But the sport is changing as a new conference dynasty begins. With the strength of these SEC teams, the SEC is looking for their second WCWS Championship.
Of course I'm rooting for the University of Tennessee Lady Vols to dominate in Oklahoma!
The Lady Vols had been ranked No. 2 before losing to Missouri in the SEC tournament. The No. 7 seed Lady Vols host the best out of 3 against Alabama on Friday on ESPN2 and again Saturday on ESPN! Prime Time on ESPN!
Since 2004 UT coaches Bo and Karen Weekly have made the Lady Vols a powerhouse in the sport and have reached the NCAA tournament every year and the WCWS 5 times. This could be one of the all around best UT softball teams the Weekly's have coached. Second-basemen Lauren Gibson was named SEC Player of the Year and Raven Chavanne led all hitters in the SEC with .391 in conference batting average (.439 for all games) and 2nd in stolen bases. The Renfroe sisters are fierce in the circle with a combined 36-8 win-loss record. Senior Ivy has an amazing 0.88 WHIP (walks and hits allowed per innings pitched) and a 0.91 ERA (2.02 career ERA). Junior Ellen is a pushing sibling rivalry with a 0.80 ERA and 67 strikeouts in 52.1 innings pitched. The youngest Renfroe, Anna, is a freshman infielder, has only played in three games and earned an .333 on-base percentage.
Even if you never played fast-pitch softball you should give the Riseball another look. It's basically an upside down curve ball thrown overhand. It's not an easy pitch and it's more difficult to hit (the ball rises as its thrown to the batter from the backspin and pitching technique). Watch one game, root for the Lady Vols, and you'll become a college softball fan.
-Enjoy the College World Series Mr. Patrick! And if I see Angle Hernandez, I'll be sure to send him a drink with your best regards. 🙂